I have to report with regret, grief and sadness, the death of Mrs Samina Ahmed of UK, which took place on 14 December 2017. Inna lillahi wa Inna ilaihi rajioon.
She was 55 years of age and had suffered from multiple sclerosis since her youth. She was my sister, and sister of Mr Shahid Aziz.
She was married to Mr Paul Selim Ahmed, an English convert to Islam and a regular and valuable contributor to the literary work of the Lahore Ahmadiyya Movement (including the revision of the volume of Muhammad in World Scriptures dealing with prophecies from the Bible; see this link.)
In her prime Samina used to write articles in Lahore Ahmadiyya magazines and give talks at the UK Lahore Ahmadiyya Centre. Here are two examples of her articles: (1) The Light (Lahore), 24 April 1981, and (2) The Islamic Guardian, July-December 1983.
The photo below is from the summer of 1970 and shows Samina, with her mother Mrs Akhtar Aziz on the left, and on the right Maulana Abdul Haq Vidyarthi (the father of Mrs Aziz):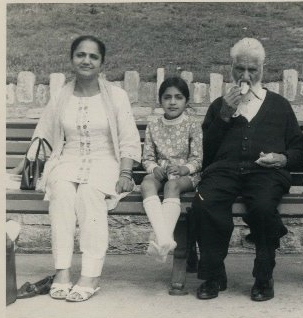 The photo below is from September 2012, at Samina's 50th birthday: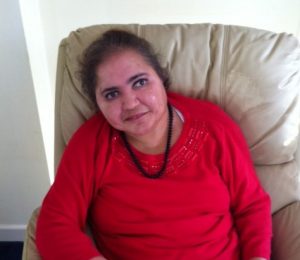 — Zahid Aziz