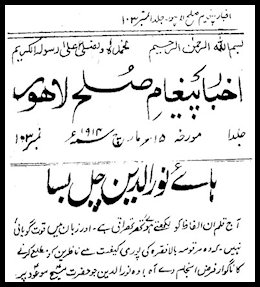 Hazrat Maulana Nur-ud-Din passed away on 13th March 1914 — may Allah raise his grades to the highest level!
To mark this centenary I have collected some articles about his life. Please see this link.
Three of these are news published in Ahmadiyya organs at the time (one English, two Urdu). The image above is the head of one of these.
Maulana Muhammad Ali recounted in later years:
"It was my good fortune that I had the opportunity to learn the Quran from him even in those days when he was on his death bed. I used to read out to him notes from my English translation of the Holy Quran. He was seriously ill, but even in that state he used to be waiting for when Muhammad Ali would come. And when I came to his pres­ence, that same critically ailing Nur-ud-Din would turn into a young man. The service of the Quran that I have done is just the result of his love for the Holy Quran."
What must have been Maulana Nur-ud-Din's last letter to Khwaja Kamal-ud-Din (who was then in England) is translated below:
"Qadian. 21 January 1914.
Respected and honoured Khwaja sahib, assalamu alaikum wa rahmatullahi wa barakatu-hu.
I am now old and have lived long. Whenever I placed reliance on people, I suffered. I don't need to explain the details to you. When you have the money, only then expand the magazine. Do not start some venture based on hope, and then find yourself ridiculed. God has many assistants. When someone does worthwhile work, it will be a sincere person who does it. Those who do it for payment don't work successfully. All those who worked for the Holy Prophet Muhammad were honorary. That is how the work was done. As soon as honorary work was replaced by paid work, everything perished. Do not work beyond your strength. … There are very few who are willing to sacrifice themselves. These days I don't order anyone. Self-sacrifice is a very great quality, which a person only possesses through the grace of God."
— Paigham Sulh, 3 March 1914, p. 1.